MICROPROCESOR CONTROLLER OF THE PELLET'S BURNER

REG-03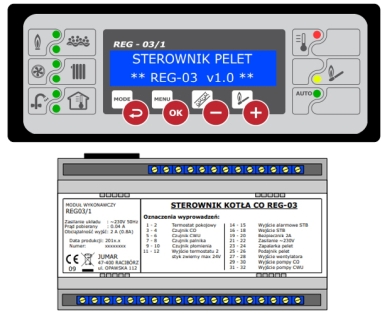 REG – 03 controller is a modern microprocessor device controlling the work of the pellet's burner. Implementation of advanced driver's algorithm and the flame sensor ensures the simplicity of maintenance and the full automatisation of the burning process. The usage of a large liquid crystal display and large steering buttons assures an easy and clear interaction between the user and the device. The driver is adapted also to working with the central heatings pump and the pump of the warm useful water. Thanks to these functions, the device can be used in expanded installations of the central heating without using additional steering devices. The regulator is also equipped with an output of room thermostat which enables the change of the furnace's working parameter after reaching a particular temperature in the room. 
EXAMPLE CONNECTION OF THE CONTROLLER TO THE INSTALLATION: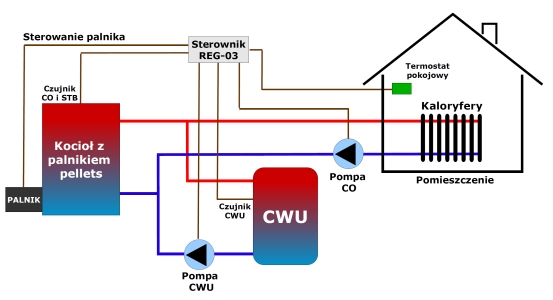 CONNECTING THE CONTROLLER TO THE PELLET'S BURNER: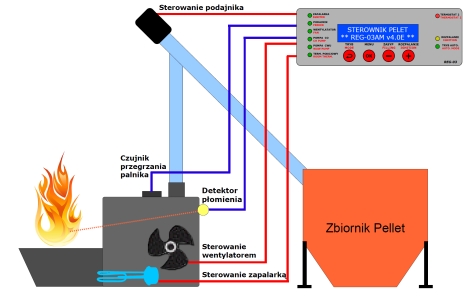 USED FOR PELLETS BURNER FOR: 
- home central heating,
- tobacco dryers,
- fruit dryers,
- space heaters,
- bakery oven,
CONTROL FUNCTION:
- feeder control,

- internal feeder control (optional)
- air fan control,
- heater / igniter control,
- central heating pump control,
- warm usage water pump control,
- cleaning system control: compressor, rake (optional).
FEATURES OF THE CONTROLLER:
- liquid display LCD 2x20,
- simple, user friendly menu, 
- full automation of the combustion process together with automatic ignition,
- overheating protection,
- additional overheating protection for the boiler (STB) and for the burner,
- possibility of connecting a room thermostat.
ATTENTION!!! 
Various software are available for REG-03 controllers. Please contact with us.
 
The following versions are available:
- firmware with one feeder control (external),
- firmware with two feeders control (external and internal),
- firmware with cleaning system (rake/ compressor),

- firmware for dryers, bakeries.
FILES TO DOWNLOAD
User manual
REG-03RN

(Polish)

 

User manual
REG-03RN

(English)

User manual
REG-03RN

(Russian)
PRODUCT GALLERY